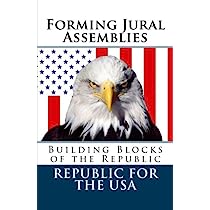 Jurisprudence Study at 6pm
David Keith is inviting you to a scheduled Zoom meeting.
Topic: JURISPRUDENCE STUDY;  Continuing a general study of the  "Puritan Protestant Roots of America":  We are currently reading "The Common Law Handbook" A copy is provided for convenience. The book is free and not for sale. This Study is for the vigilant and those who do not love servitude. We study to understand the purpose and limitations of the State or when the civil government, with the support of the churches who are misusing their power. We learn to recognize when tyranny takes place, resist it and preserve liberty.
Time: Jun 12, 2023 06:00 PM Pacific Time (US and Canada)
Every week on Mon, until Dec 18, 2023, 28 occurrence(s)
Jun 12, 2023 06:00 PM
Jun 19, 2023 06:00 PM
Jun 26, 2023 06:00 PM
Jul 3, 2023 06:00 PM
Jul 10, 2023 06:00 PM
Jul 17, 2023 06:00 PM
Jul 24, 2023 06:00 PM
Jul 31, 2023 06:00 PM
Aug 7, 2023 06:00 PM
Aug 14, 2023 06:00 PM
Aug 21, 2023 06:00 PM
Aug 28, 2023 06:00 PM
Sep 4, 2023 06:00 PM
Sep 11, 2023 06:00 PM
Sep 18, 2023 06:00 PM
Sep 25, 2023 06:00 PM
Oct 2, 2023 06:00 PM
Oct 9, 2023 06:00 PM
Oct 16, 2023 06:00 PM
Oct 23, 2023 06:00 PM
Oct 30, 2023 06:00 PM
Nov 6, 2023 06:00 PM
Nov 13, 2023 06:00 PM
Nov 20, 2023 06:00 PM
Nov 27, 2023 06:00 PM
Dec 4, 2023 06:00 PM
Dec 11, 2023 06:00 PM
Dec 18, 2023 06:00 PM
Please download and import the following iCalendar (.ics) files to your calendar system.
Weekly: https://us02web.zoom.us/meeting/tZIocOyurDsiHdAl5xAxwyQIv4BpGyG7y8O-/ics?icsToken=98tyKuGuqzwvHNaVuB6DRpwAGY_CZ-7zpmJHgqd8kEr9IjhEezLfILZgIpVmN4_J
Join Zoom Meeting
https://us02web.zoom.us/j/86575620874?pwd=amJTM2JKY1c1RTFEYmhTRUdYcW5vUT09
Meeting ID: 865 7562 0874
Passcode: 549215