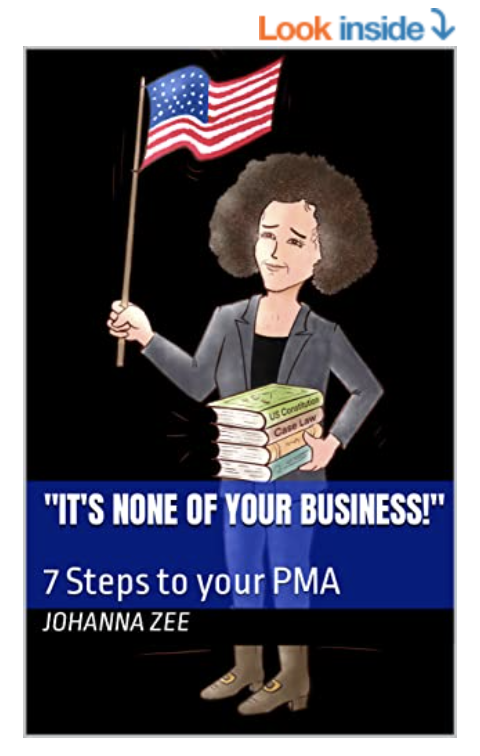 PMA Author Guest Speaker Johanna Zee Feb 9, 2023
PMA Guest Speaker and Author
Johanna Zee
February 9, 2023
Please join us (at the regularly scheduled Thursday Funding Study Group) for
Guest Speaker and Author Johanna Zee
Johanna Zee, Bio
As a Writer, Inspirational speaker, Business consultant, and PMA Advisor, Johanna Zee has a passion for helping others realize their inherent freedom. Author of "It's None of Your Business!" 7 Steps to your PMA, available on her website www.zeehealing.com, Johanna is available to assist you in starting or moving your business to the private sector.
We encourage people who want to ask questions during the Q&A to first go out and purchase Johanna's eBook available on Amazon or via her website at www.zeehealing.com. It's a very informative and quick read. Plus there is time ahead of our meeting with her.
Topics include Private Membership Association, PMA, Faith-Based Organizations, Tradesmen and Tradeswomen in the Private Domain
(excepts from Amazon)
Ever wonder what the mystery was about creating your own Private Membership Association? This How-to Guide will break it down for you, step by step, with by-law and contract examples you can use immediately to build your own documents for your organization. We take a light-hearted, fun approach to an often overwhelming endeavor with real life scenarios to keep you engaged.
Before that, though, we address the essential element of deprogramming and how to step back and see the bigger picture so you can fully embody the liberties you seek.
Freedom is closer than you think. With specific passages from our founding documents and case law to back it all up, you don't have to hire anyone to set up your PMA. You get to decide. Links for support are here as well.
While we cannot possibly answer all the questions for every scenario, you will likely find yourself empowered with this new tool, so you can enjoy a freer way of living and commerce.
Join Zoom Meeting February 9, 2023
https://us02web.zoom.us/j/85349576588
Work with a team of like minded to lighten the financial burden from the monetary system fraud.  This is a one hour class led by Alla.
Topic: Funding Study Group
Time: 02:30 PM Pacific Time (US and Canada)
Every week on Thursdays
Meeting ID: 853 4957 6588
One tap mobile
+16694449171,,85349576588# US
+16699006833,,85349576588# US (San Jose)
Dial by your location
+1 669 444 9171 US
+1 669 900 6833 US (San Jose)
Meeting ID: 853 4957 6588
Find your local number: https://us02web.zoom.us/u/keCqLIWjrb